Most of the blocks used in this quilt are taken from two books by Rosemary Youngs, The Civil War Diary Quilt and The Civil War Love Letter Quilt. The quilt was designed by Lucy Maust and quilted by Esther B. Yoder.
The inside rows of blocks represent the realities of the War while the outside rows give a rough chronological history of the War. An embroidered map is color coded to show the Union, Confederate and Border states and the territories. The official flags of both the Union and the Confederacy are also included.
This quilt was auctioned at the August 25, 2012 Country Fest & Auction.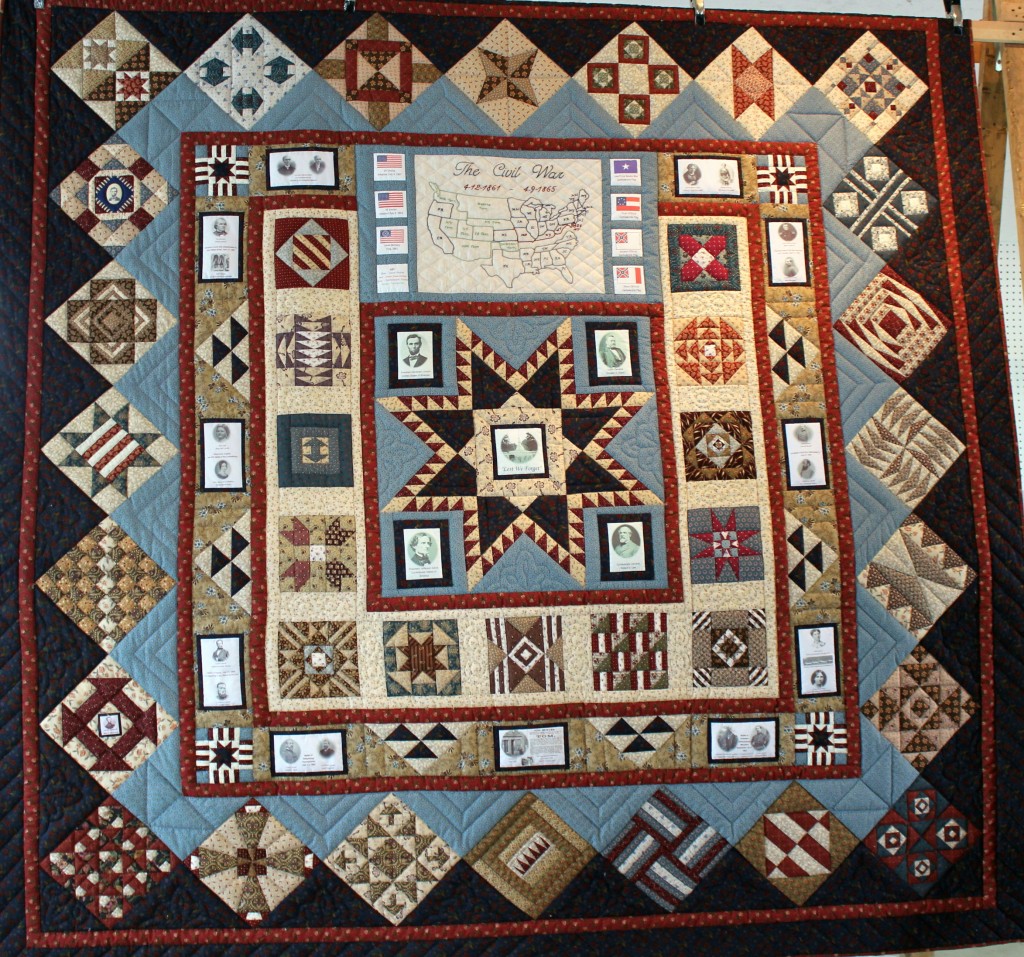 Public Domain Photos on Quilt
Levi & Catherine Coffin, Harriet Beecher Stowe, Harriett Tubman, Gen. Robert Anderson, Gen. Pierre Beauregard, Gen. Irvin McDowell, Gen T.T. (Stonewall) Jackson, Clara Barton, Louisa Mae Alcott, President Lincoln, with Gen. Pinkerton & Gen. McClernard, Gen. George McClellan, "Auction and Negro Sales" sign on building, Notice of Reward for Runaway Slave, Gen. George Meade, Gen. James Longstreet, Gen. Wm. Tecumesh Sherman, Gen John Bell Hood, Mary Todd Lincoln, Varina Howell Davis, Andrew Jackson, Ford's Theatre, President Abraham Lincoln, Gen. Ulysses S. Grant, President Jefferson Davis, Gen. Robert E. Lee, Gettysburg Cemetery